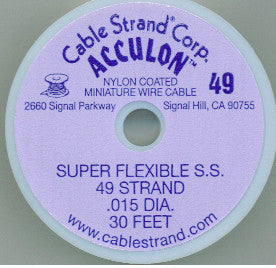 Stringing Materials
Acculon 49
---
49 Strand Acculon jewelry wire was developed in 2009, and it is the premium beading wire on the market. It offers exceptional strength, kink resistance, and flexibility. If you are making a necklace or bracelet that you plan on wearing for years to come, you will want to use our Acculon 49 Strand. We have diameters that will work for the majority of your beading needs. 49 Strand Acculon has the best drape out of all of the Acculon products. It is slightly more costly than the Acculon 21 Strand, but it is well worth the money and still less costly than most of the other 49 Strands on the market.
Acculon 49 Strand is kink resistant, durable, and extremely flexible. The more strands of stainless steel that are wound together, the more flexibility the wire will have.
Acculon 49 Strand is made by tightly stranding 49 very fine stainless steel wires together. The wire is then stress relieved to relax the wire and add to it's flexibility. This all takes place before the wire is coated in FDA approved nylon. This nylon is specifically designed to resisted abrasive beads while also making it completely safe for bodily contact.
---
Share this Product
---
More from this collection